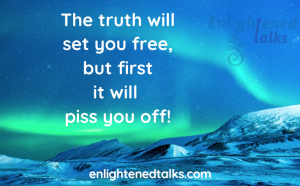 THE 

TIMELESS

 TRUTH
Those who reject the truth like to laugh, mock, and call us "conspiracy theorists" when we talk about the truth.
But the truth doesn't change just because others refuse to accept it.
Noah spent around 100 years building the ark and warning everyone that God was sending a flood. The people laughed and mocked Noah for his "conspiracy theory," but their rejection didn't change the truth…God DID send a flood.
Imagine how Noah must have felt to be treated as the "crazy guy" for an entire century; however, Noah understood the reality of the flood was greater than the temporary laughter of those around him.
We are in the same boat today, literally. The Bible says "as it was in the days of Noah, so shall also the coming of the Son of Man be" (see Matthew 24:38).
We know the truth of God's Word and what is happening around us. Sure, we get laughed at and seen as crazy by those who refuse to believe the truth, but we must remember the reality of the truth is greater than the laughter of those around us.
Those in Noah's day laughed, mocked, and criticized…but then it started raining. Their disbelief didn't change reality.
Today, there will be those who laugh, mock, and criticize…but there is a day coming where they will see God face to face. Their disbelief won't change reality.
Though the world laughs, keep serving God. Keep pursuing the truth. Keep reaching the lost. Keep sharing what's happening around us.
May we never trade the timeless truth of God for the temporary approval of those around us.
Come by and see us and we will help you navigate what is going on in this world.
---
THE READABLE TRUTH

The Earth Isn't Flat But Much Larger Than You Think
200 Proofs Earth is Not a Spinning Ball
---
THE VISUAL TRUTH
The Timeline
Game Over: The Level Playing Field

Fall of The Cabal
Website
Bitchute Channel Playlists
Telegram Channel
Ewaranon Videos
Telegram Channel
What On Earth Happened?
The Lost History of Flat Earth
Exploring Tartaria
The Timeline Deception – Exploring Tartaria Pt 1
The Timeline Deception – Exploring Tartaria Pt 2
Jetson White
ALL Jeston White Rumble Videos
Jetson White: The Trump Time Travel Series 2022
The Trump Time Travel Series 2022 Revisit-Part 1
The Trump Time Travel Series 2022 Revisit-Part 2
The Trump Time Travel Series 2022 Revisit-Part 3
The Trump Time Travel Series 2022 Revisit-Part 4
The Trump Time Travel Series 2022 Revisit-Part 5
The Trump Time Travel Series 2022 Revisit-Part 6
The Trump Time Travel Series 2022 Revisit-Part 7
The Trump Time Travel Series 2022 Revisit-Part 8
The Trump Time Travel Series 2022 Revisit-Part 9
David Straight
Website: David Straight Live!
Youtube Video Series:
David Straight – What You Need To Know
Justin Pawlak
Youtube Channel
The Mudflood Atlantis Tartaria Lost Civilization Playlist
Giant's Tartaria Mudflood Playlist
Episode VI Tartaria and the Old EMPIRE Playlist
The Mud Flood Playlist

The Greatest Story
THE GREATEST STORY – Part 1 – Our Journey Begins
THE GREATEST STORY – Part 2 – Ruthless
THE GREATEST STORY – Part 3 – Strange Days
THE GREATEST STORY – Part 4 – Paradise Lost
THE GREATEST STORY – Part 5 – Boer War
THE GREATEST STORY – Part 6 – The Way It Should Be
THE GREATEST STORY – Part 7 – Guatemalan Facade
THE GREATEST STORY – Part 9 – Most Beautiful
THE GREATEST STORY – Part 9 – Time Shifters
THE GREATEST STORY – Part 10 – The Inheritors
THE GREATEST STORY – Part 12 – Cabinet of Curiosities
THE GREATEST STORY – Part 13 – Free Energy
THE GREATEST STORY – Part 14 – Mud Flood
THE GREATEST STORY – Part 15 – Bullshit Train
THE GREATEST STORY – Part 16 – Question His Story
THE GREATEST STORY – Part 17 – Havoc
THE GREATEST STORY – Part 18 – Yesteryear
THE GREATEST STORY – Part 19 – Gavelston, oh, Gavelston
THE GREATEST STORY – Part 23 – Civil Warp
THE GREATEST STORY – Part 24 – Impossible Dream
THE GREATEST STORY – Part 25 – Mind Fuck (part 1)
THE GREATEST STORY – Part 26 – Mind Fuck (part 2)
THE GREATEST STORY – Part 27 – Head in the Clouds
THE GREATEST STORY – Part 28 – Where are the People?
THE GREATEST STORY – Part 29 – Everywhere a Castle
THE GREATEST STORY – Part 30 – Ready… Reset… Go!
THE GREATEST STORY – Part 31 – Feast for the Eyes
THE GREATEST STORY – Part 32 – Rewriting History
THE GREATEST STORY – Part 33 – Fasces
THE GREATEST STORY – Part 34 – Post-Reset Postcards
THE GREATEST STORY – Part 35 – Rise Up
THE GREATEST STORY – Part 36 – Let There be Light
THE GREATEST STORY – Part 37 – Our Journey Continues
THE GREATEST STORY – PART 38 – NOTHING NEW UNDER THE SUN
THE GREATEST STORY – PART 39 – WAY DOWN UNDER (PART 1)
THE GREATEST STORY – PART 40 – WAY DOWN UNDER (PART 2)
THE GREATEST STORY – PART 41 – OH, CANADA
THE GREATEST STORY – PART 42 – US AND THEM
THE GREATEST STORY – PART 43 – STAR CITIES
THE GREATEST STORY – PART 44 – OLD WORLD MEMORIES
THE GREATEST STORY – PART 45 – WATER WORLD